New Mapping: Innovations against COVID-19
Mapping Innovations vs. COVID-19
Since Covid-19 arrived in Latin America at the beginning of the year, the organized civil society has played a central role in promoting coordinated and innovative responses to the pandemic and its economic, social, political and public health challenges.

Here at LATINNO, we have been following up on these responses, mapping more than 400 initiatives that have emerged since March in 18 countries in the region. In the following sections we present more information about the data we have collected, and what it tells us about citizen participation and mobilization in the face of a global crisis.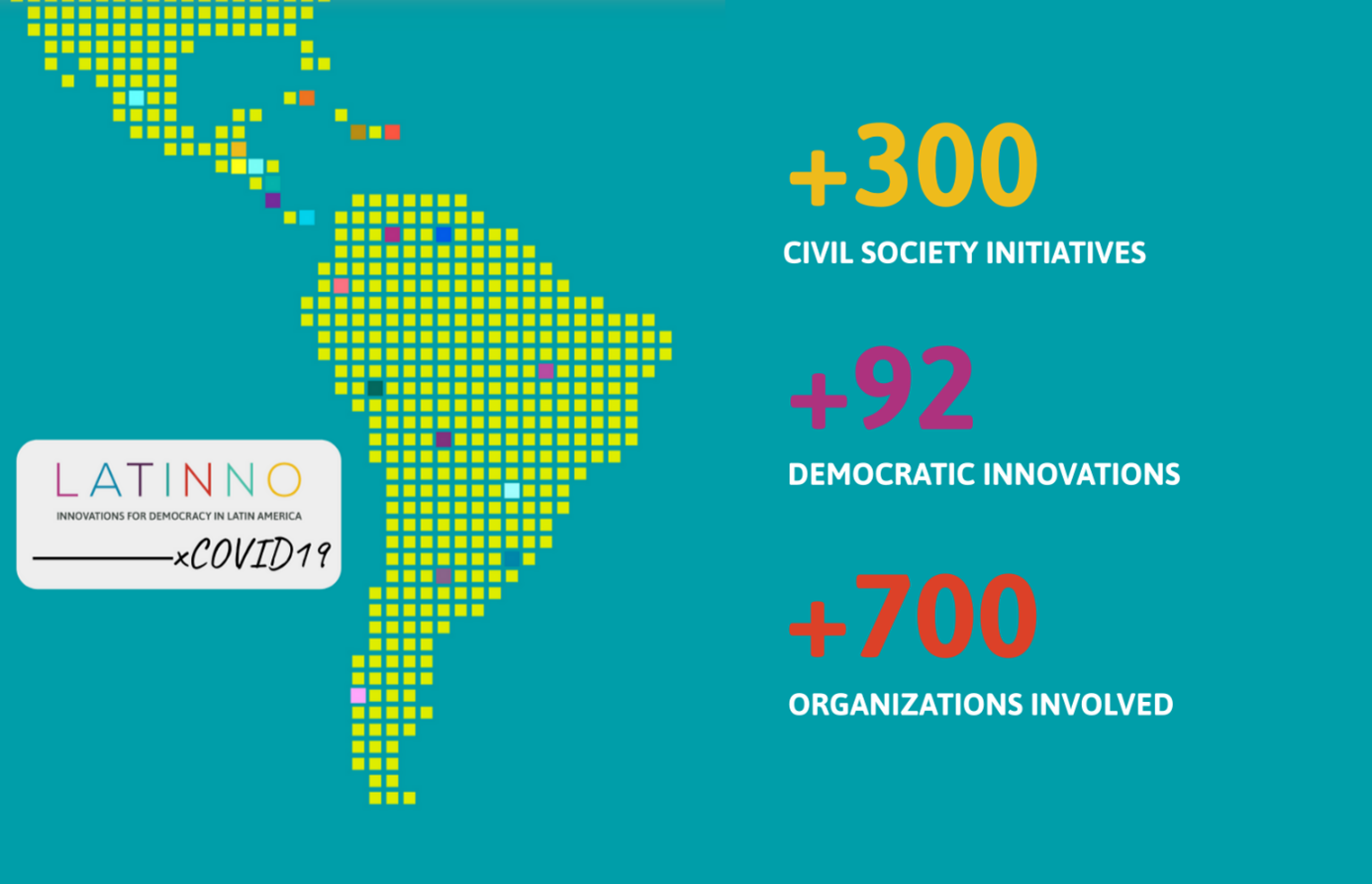 Organized Citizens vs. the Pandemic
The initiatives we have mapped fall into two categories:

90+ represent democratic innovations, that is, institutions, processes and mechanisms based (mainly) on citizen participation. These are essentially digital platforms that pursue two goals: the coordination of ideas and actions through collective intelligence, and the veracity and transparency of data. We have registered them following our analytical framework and made them available in our online database. You can find them by applying the filter "Covid-19" to the search.

The remaining 300+ initiatives are frequently based on citizen collaboration, although they are not directly participatory. They include projects, campaigns and ideas carried out by civil society organizations, international cooperation agencies, by the private sector, and sometimes by governments themselves. Their main aim is to articulate efforts to respond to the challenges posed by the pandemic: How to support health workers and services? How to facilitate access to goods and services under the ongoing restrictions, especially for vulnerable populations? Which tools can help citizens and governments to prepare for post-pandemic life?

These initiatives are now listed on a dedicated page for Initiatives against Covid-19 in our website. Check them here!
Collective Intelligence and Digital Tools
An in-depth analysis of these initiatives can be found in a recent piece by the coordinator of the LATINNO Project, Thamy Pogrebinschi, published on openDemocracy / DemocracyAbierta.

The article explores how these initiatives evidence the potential of collective intelligence and crowdsourcing as innovative mechanisms, based on digital technologies, that can help overcome the limitations that governments have encountered in managing the pandemic and its effects.

Read the article here!
What is LATINNO?
LATINNO was born in 2015 as the first database on citizen participation and democratic innovations in Latin America. It covers 30 years of participatory innovations, with more than 3,000 cases identified for 18 countries in the region. Each case is coded following 43 variables that capture the means, ends, and impact of the innovations on the quality of democracy.

Visit our database!
Are we missing something?
If you are aware of initiatives to combat the Covid-19 pandemic, or of any other participatory projects that are currently not included in our database, please send us the information so that we can incorporate them!

You can do so via our website, filling in your contact data and any further information about the initiative (name, country, city, links or documents related to the case).
Send a case!